This nation needs to applaud
To the birth of this being
Truly a man of action
Unruly to the saner lot,
Let me introduce you
To the great Indian litterbug
The more I say
The better it gets,
It ain't going to be pretty
But who cares about what you think?
It's all about him
And how he spits shines,
He can paan-parade on somebody
By dangling off the foot-board
Not bothered about the expletives
That would decorate his eardrums,
No, he is too cool for you
And you can only aspire
To become like him
Or are you him already?
His fingers itch to throw something
Not into the trash bin
Because that would be a sin
How offensive that sounds!
All hail, open defecation
Didn't you know, that is so
In the season
Let it trend on the internet!
He creates a new revolution
Oh, the litterbug,
Is a freaking sensation
Wish everyone were like him,
This narcissistic celebrity
Whom you all should hero-worship
Is spreading the plague
All over the city,
Our spiritual and holy lands
Conquered by this beloved bug
Who only wishes to begrime it all!
Oh, won't you let him do it?
This awesome superstar
Disperses only filth
Might not need your help
But sends out the distress call,
Soon you shall follow
Heed to the mighty litterbug
For he will trap you
In his disconcerting trance,
We shelter this creature
Nurturing and educating him
And he opts to ignore
His sense of morality,
He loves to throw a trash-y party
Painting the country red
With splattering tobacco
And a heartless body,
He lives amidst us
Ostentatiously, moves through the ruckus
Having started it by himself
Loving every bit of attention,
He ballet-dances
Around open siphons
Trash here, trash there
And let it rain everywhere,
He flatters the undisturbed walls
With his artistic abilities
He draws the maze of urination
Contributing to society,
He is the proud son
Of mommy India
A being born out of
Encouragement and hope,
The litterbug simply loves
To frolic in filth
Ignoring the clarion cry
Of our incredible Modi Man,
But I already told you
He is too cool for that
Because the PM has got
Nothing on him!
To hell with 'A Swacch Bharat'
He says, and vows to never
Volunteer to do abominable tasks
Or burden him with unholy promises,
Such is the mind
Of the great Indian litterbug
What if he is Loki's devotee?
Because he does what he wants!
He dares the people
To dream of cleaner grass
And pretty park benches
For it will remain a dream,
No one can defeat
The great Indian litterbug
He defies the litter-god himself
If there was one!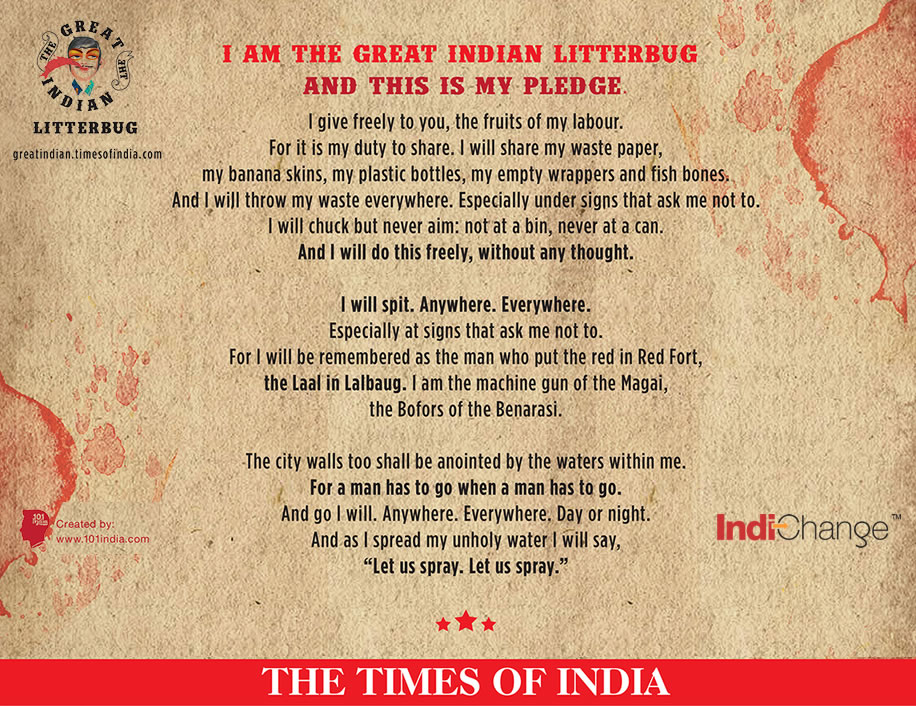 (Picture Courtesy : IndiBlogger )
Visit http://greatindian.timesofindia.com/ for more humorous stories on the Great Indian Litterbug.
This post is a part of The Great Indian Litterbug contest, hosted by IndiBlogger as a part of Indi-Happy Hours in association with The Times of India