Imagine you have never had a smart phone in your entire life and you don't know how to use one at all. Why would you choose the all new Moto E? Well, I'll tell you why.
Don't we all want a smart phone that fits perfectly in our back pocket? Don't we all want to browse videos on YouTube without the phone slipping out of our grip, well, no worries because the all new Moto E is here! Its classy features have been blended into one little window. It uses the latest version of the Android OS called Lollipop which allows you to experience the smart phone world extravagantly.
But the real question is why would you want to associate yourself with this phone? What is so special about this phone that the other smartphones do not possess?
This phone is an economical option when in comparison to the other phones dominating the market. It focuses on a cost-effective way to experience a smart phone and we don't have to shell out a lump sum amount too. With a speed of about 4G LTE, the phone zooms into images, games and videos, aiding smooth browsing on the all new Moto E. The Qualcomm Snapdragon processor with a 1.2GHz quad-core CPU and advanced graphics which helps you to swap back and forth between multiple apps without slowing down the phone's system. Now who doesn't like to multitask in today's world?
The need of the hour is to have all-day charge on our smartphones, because it is basically fodder for our lives. Can you imagine a day passing by without using your phone? Be it clicking an image of the food you eat and posting it on Instagram to selfies in the loo, the two camera feature on this phone supports all that. Beautifying the phone with its sexy and colourful grip tags not only helps you to hold your phone without it falling out of your hands but also gives off a trendy whiff.
Now don't you want to #ChooseToStart with the brand new Moto E? I know I do.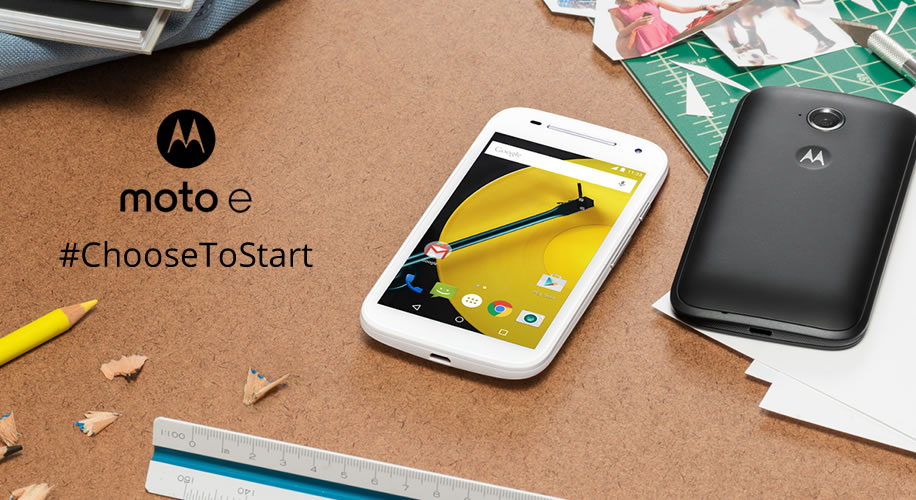 This post is a part of the #ChooseToStart contest by the all new Moto E in collaboration with IndiBlogger.